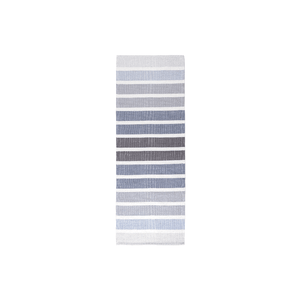 4living
Rug USVA – Different Shades of Blues & Greys 80 x 160 cm
Sale price Price £38.50 Regular price Unit price / per
Tax included.
The design of this rug, called USVA, is inspired by the different hues of the day to night skies in Finland up near the Arctic Circle. The colours of the rug are ranging from differently toned stripes of white to grey, but also from light to dark blues. The length of this cotton-yarn rug will make it a great addition to your living room in front of your sofa or chest of drawers, in your bedroom stretching the length of your bed or even in your bathroom to add a fresh breeze to your daily routine. Be inspired by the daily skies yourself and get this clearing-thinking, fresh breathing Nordic-style rug into your home. The rug is available in two different lengths: 160cm and 210 cm and is bent at the ends to give the rug a smooth finish.
Product Specification
Material Type: Cotton Yarn
Sizes:
80 x 160 cm OR
80 x 210 cm
Colours: White/Blue/Grey.