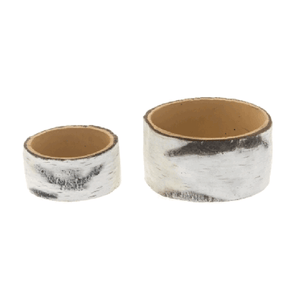 Polar Lanterns
Birch-Pattern Decorative Pots Small & Large
Sale price Price £10.00 Regular price Unit price / per
Tax included.
These decorative containers with its birch-bark style exterior are very unique and Nordic in style. They make an excellent way to keep things stored and safe such as jewellery, make for a good base to put a candle in would even fit very well on a dining room table for decorative purposes. In whatever way you choose to place these birch-barked inspired pots in your home, you will always be reminded of fresh air and roaming outside in the woods.   
Product Specification
Material Type: Ceramic
Sizes:
Small - 14X14X6.5CM
Large - 19.5X19.5X9.5CM
Colours: Birch-themed surface.